Somewhere Around Here,
A Public Installation of Art Objects

Somewhere Around Here is an uncommissioned public art project using temporary attachments such as magnets, where the artist "leaves something behind" at a carefully selected location. The opportunity is to produce art for spaces unmarked by "difference," where creativity can collide with the hyper-controlled realities of the public sphere. These objects point out the freedom of art outside the usual confines of market exchange and the gallery, and confront these forces with chance human connections characterized by surprise and wonder. The works suggest radical freedom through dissonant human connections and through signals of the decay of capitalism.




Tap, 2021, found faucet, feathers, nylon, attachments.
Five Points neighborhood, Denver.



Troopers, 2021, candy mould.
5-points neighborhood, Denver.




Gold Plated Post, 2021, found plate, screw.
Installed in the 5-points neighborhood, Denver.




Cracked Bat, 2021, found baseball bat, bolts.
Golden Triangle district, Denver.




Victories, 2021, trophies, bricks, attachments.
War Memorial, Colorado State Capitol, Denver.




Eyes Wide Shut, 2021, found costumes.
Civic Center Park, Denver.




Surveyor, 2021, found toy, magnet, attachments.
Larimer Square, Denver.




Monument, 2021, teeth moulds, magnets.
Larimer Square, Denver.




Peeps, 2021, found peeps, wine decanter, magnet.
Millenium Bridge, Denver.




Perfectly Good Scissors, 2021, found scissors, magnet.
Museum of Contemporary Art, Denver.




Extra Baggage, purse packed with chains.
Cherry Creek Neighborhood, Denver.




Bowlers, 2021, trophies, light stand, magnets.
Pedestrian Bridge over I-25, Denver.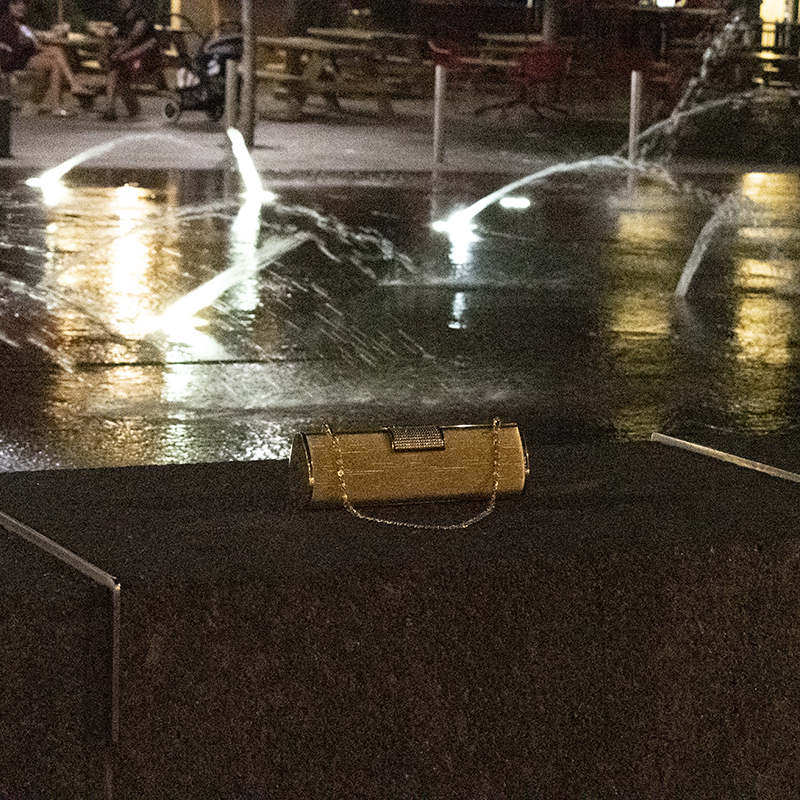 Lost Purse, 2021, found purse, glow stick.
Union Station, Denver.




Downgrade, 2021, found phone, duct tape, embossed label.
Union Station, Denver.




Pinwheel, 2021, found ornament, solar powered motor, magnets, acrylic sheet, attachments.
Installed at RedLine Contemporary Art Center, Denver.




Degentrification, 2021, belt, fanny pack, straws.
Five Points Neighborhood, Denver.




Second Pinwheel, 2021, found toys, pinwheel, acrylic sheet, solar powered motor, attachments.
Larimer Square, Denver.




Second Tap, 2021, found faucet, plastic jewels, nylon, attachments.
Five Points Neighborhood, Denver.




Mermaids with Treasure, 2021, found toys, plastic jewels, glass bowl, machine wheel, magnet, water.
Larimer Square, Denver.




Presentation, 2021, found towel rack, dog collar, magnet, attachments.
Highlands Neighborhood, Denver.




Chains on Bridge, 2021, chains with magnets and attachments.
Confluence Park, Denver.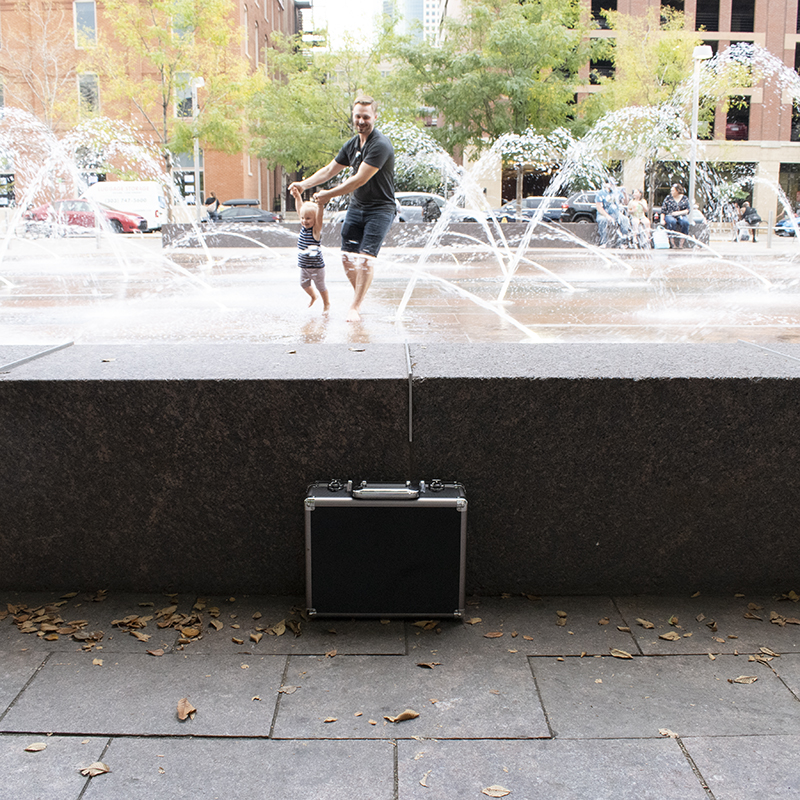 Lost Drone, 2021, found drone, case.
Union Station, Denver.




Dirty Little Hand, found doll hand, magnet, attachment.
Larimer Square, Denver.




Puzzle, 2021, found metal puzzle, magents, ball bearings.
Millenium Bridge, Denver.






Radiant Birds, A Suite of Objects by Max Maddox
Curated by Raymundo Muñoz and Anthony Garcia
Alto Gallery, April 8-30, 2022

A great hunter, naturalist, and journalist, John Audubon was perhaps the greatest bird painter of all time and their greatest witness. My only intention with Radiant Birds was to respond to his prints in Birds of America with all their complexity, to identify the love and violence within this masterpiece of art, science, and nature in rare harmony. My penwork brings a little "systematic chance" into the picture, a solitary game with a few architectural templates, and my pairings are meant to plushly adorn these prints, to memorialize the birds they portray with a few bird baths that anticipate some work to come "in the field."

During Audubon's time, before the invention of photography, he shot and killed these birds that he clearly loved in order to render them still enough to draw. He was an unrivaled observer but also a proud slave owner and a tragic positivist. I returned to this bird guide prompted, in part, by the theorist Baudrillard who drew lines around nature and knowledge that allowed me to think critically about post-capital freedom, and how to reach toward strictly unknown futures guided by nature and chance.

A few hand tools found their way here as well, reminders of old forms of labor, which we today leave behind to look at the birds. The hardest part of this project was to sit for a day and actually birdwatch, and it dawned on me how much "doing nothing" was forbidden by my habits, with a special kind of irony as my preparations for this show preoccupied me. This month, a window of time will be opened to the birds.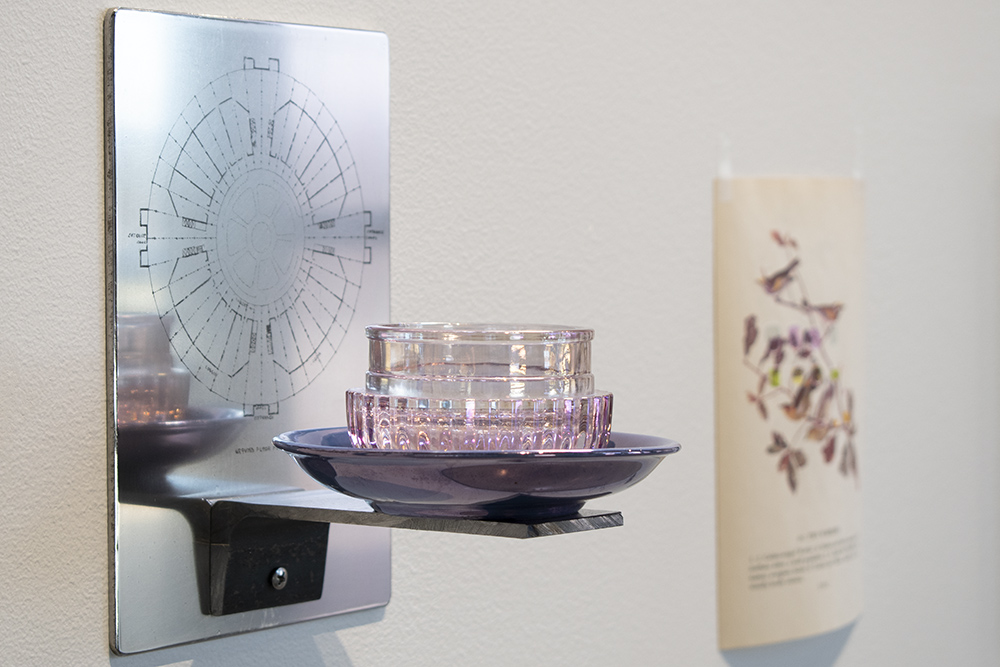 Bird Mirrors, 2022, steel plates, PCB transfers, bowls, plates, marble, construction beam, water, attachments.




Flamingo, 2022, bird guide, ink, watercolor, frame.




Snowy Egret with Birdbath, 2022, bird guide, ink, watercolor, frame; steel plate, steel bowl, chain, construction beam, attachments.




American Robin, 2022, bird guide, ink, watercolor.




Pine Sisken with Silver Spoons, 2022, bird guide, ink, watercolor, frame; silver spoons, seeds, epoxy.




Connecticut Warbler with Brass Perch, 2022, bird guide page, ink, watercolor, frame; found assemblage, brass rod, copper ring, epoxy, attachments.




Cardinals with Augur's Feeder, 2022, bird guide page, ink, watercolor; ceramic bird, game blocks, dried meal worms, seashells, acrylic sheet, laser print on transparency, wire rack, steel plate, ball bearings, attachments.




Ruby-Crowned Kinglet with Bird Mirrors, 2022, bird guide page, ink, watercolor, frame; steel plates, PCB transfers, brackets, towel rack anchor, lens, metal bowl, epoxy, Rummikub pieces, attachments.




Great Blue Heron, 2022, bird guide page, ink, watercolor.




Brown Pelican with Sniper's Glasses and Bird Filters, 2022, bird guide page, ink, watercolor, frame; Civil War era sniper's glasses, enlarger filters, nails.




Richardson's Owl with Augur's Perch, 2022, bird guide page, ink, watercolor, frame; stereo casing, stained glass, chisel handle, magnet, ball bearings, hourglass, shell, brass clip, epoxy.




Birder's Shelf, bird guide pages, stereo casing, binoculars, service bell, stained glass, chain, attachments.




Sparrow Hawk and Broad-Winged Hawk with Bird Mirror, 2022, bird guide pages, ink, watercolor, frames; steel plate, PCB transfer, magnifying glass handle.




Audubons Caracara with Hammer Perches, 2022, bird guide page, ink, watercolor, frame; hammers.




Great Gray Owl, 2022, 2022, bird guide page, ink, watercolor, frame.




Sharp-Shinned Hawk with Screwdriver Perch, 2022, bird guide page, ink, watercolor, frame; screwdriver.




Flamingo Mirror, 2022, steel plate with PCB Transfer.

Lifespans
Part of Chromatic Cogitation: Rhythm Reboot
Curated by Rosie Gordon-Wallace
November 5- February 13, 2021-2
Redline Contemporary Art Center, Denver




We find ourselves in a triage unit, a sort of ill-equipped improvised purgatory where we get our check-up. Alienated, we get our snotty diagnosis by a nurse perhaps gone mad, but who, today, is our god. A lone oxygen tank represents the precious privilege of medicine. The antibody cocktail — and then the strange reflection of the virus in the vaccine, not afforded everyone — points to our class. Catharsis, treatment, cure, vainly we question our need for it; the freedom medicine offers we feel should be naturally ours. What poison pill, after all, will get us through the gates? What perfume will outlast our lifespan? Who, after all, will exit the triage the same way they came? Who, on the other hand, will be ushered into the hospital's gauntlet, and why? Of which we know nothing, medicine has never seemed so political, so decisive, so other-worldly, so full-grown. Medicine, our fatherly liberator, with its violent love spreads its shadows on the walls, picturing our hysteria while pointing our distant way through a dream.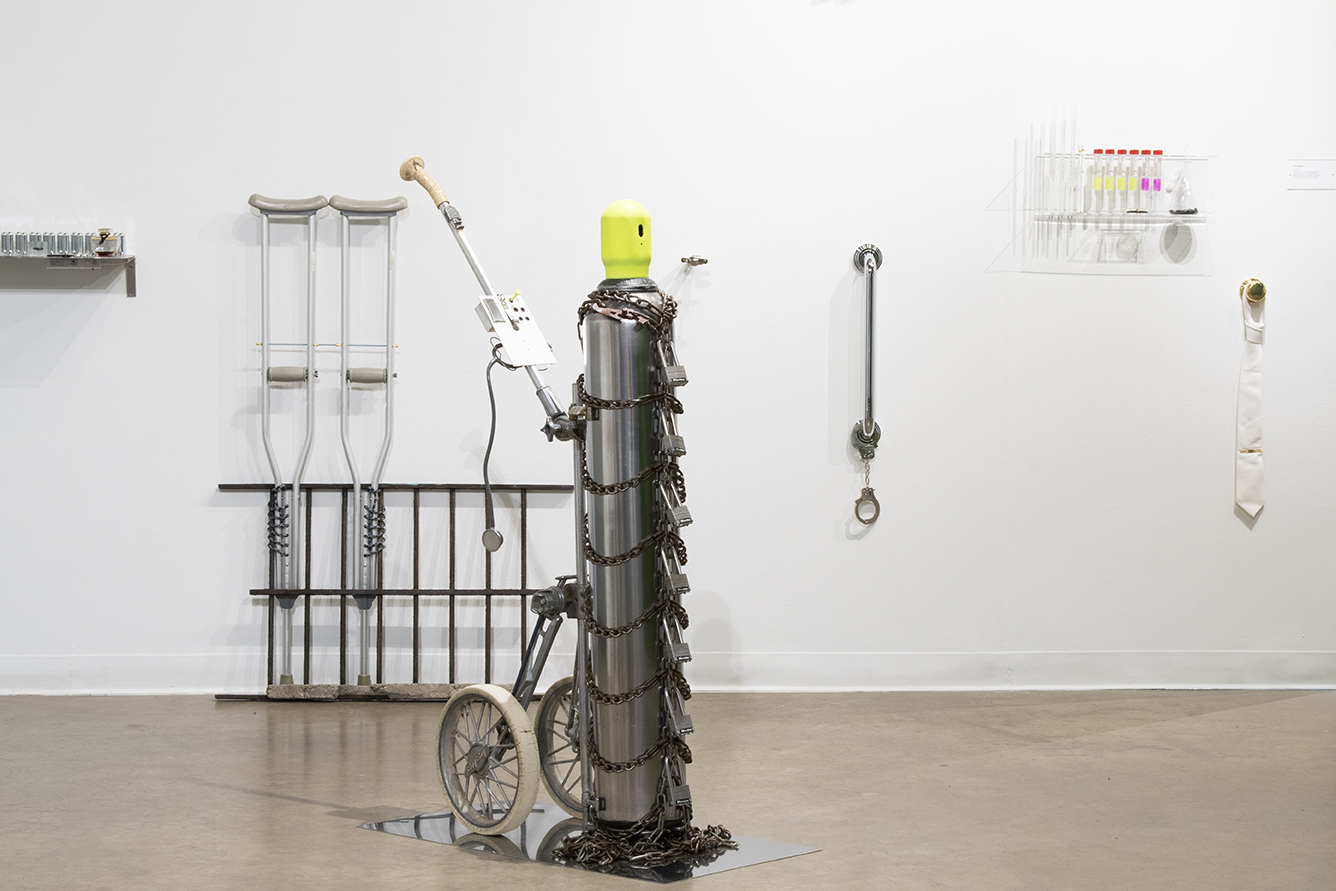 Delivery, 2021, air tank, golf caddy, tire chains, padlocks, steel plate, golf tee, linseed oil, enamel.




Rapid Test, 2021, thermometers, covid test tubes, diy crystals, compass, obsidian, erlenmeyer flask, acrylic sheet.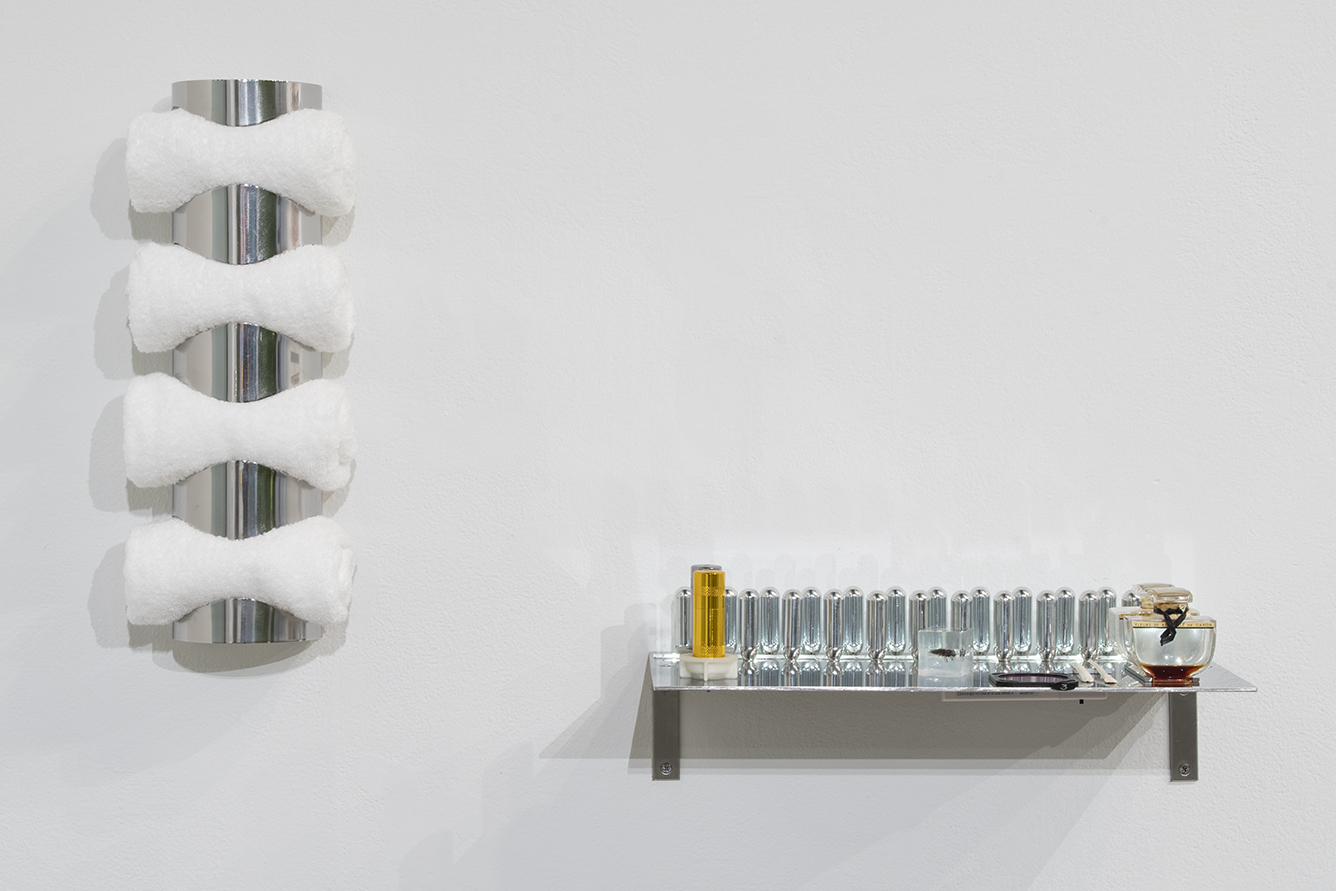 Stages of Reconciliation (pictured with Plato's Pharmacy), 2021, hand towels, wine rack.




Crutches (pictured with Plato's Pharmacy), 2021, window bars, crutches, rope, attachments.




Plato's Pharmacy, 2021, horsefly, resin, nitrous oxide cartridges, cartridge crackers, led strip, stingray spines, enlarger filter, rock flower perfume, epoxy, steel plate.




Station, 2021, wasp, resin, phlebotomy tubing, lens filter, plumbing parts, diy crystals, pasta maker parts, hypodermic needles, metal cup, cocktail shaker, magnet with leds, battery, modified table, epoxy, steel plate with attachments.




Heart, Body, and Mind, 2021, PET scans reproduced on transparencies, clear clip boards, magnets, hooks, attachments.



20 minutes, hourglass, hook, enamel.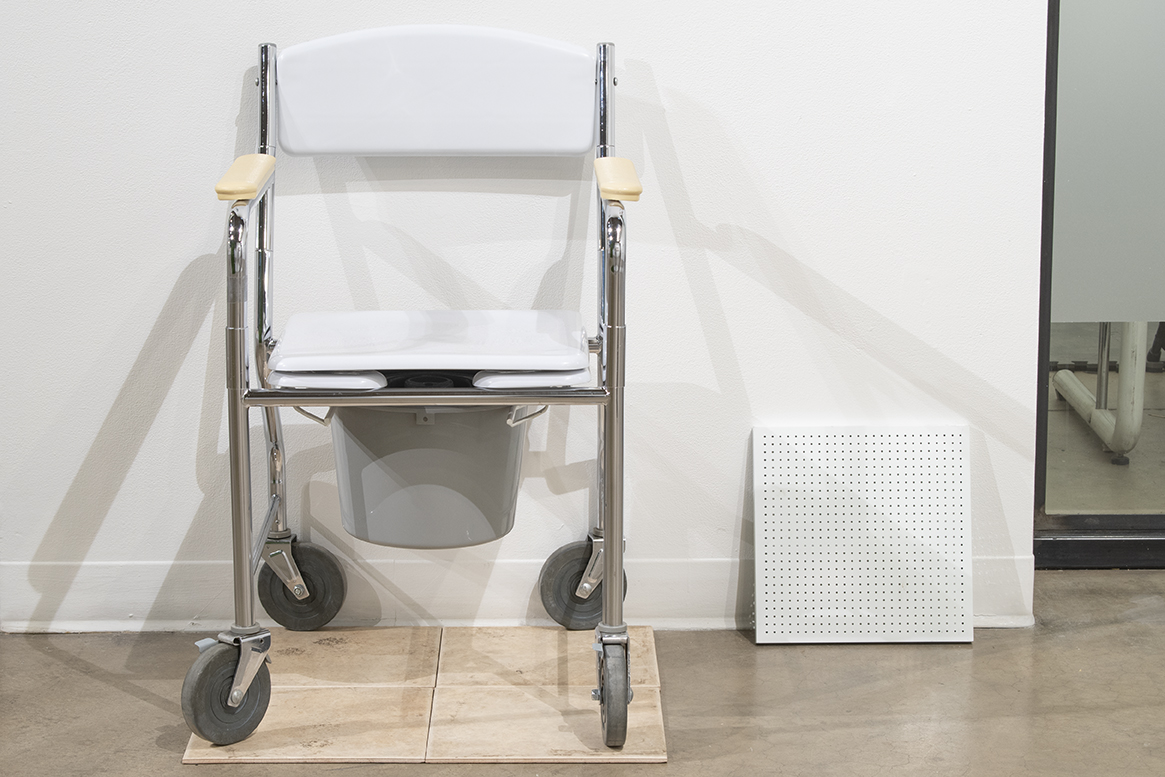 Throne, portable toilet, ceramic tiles.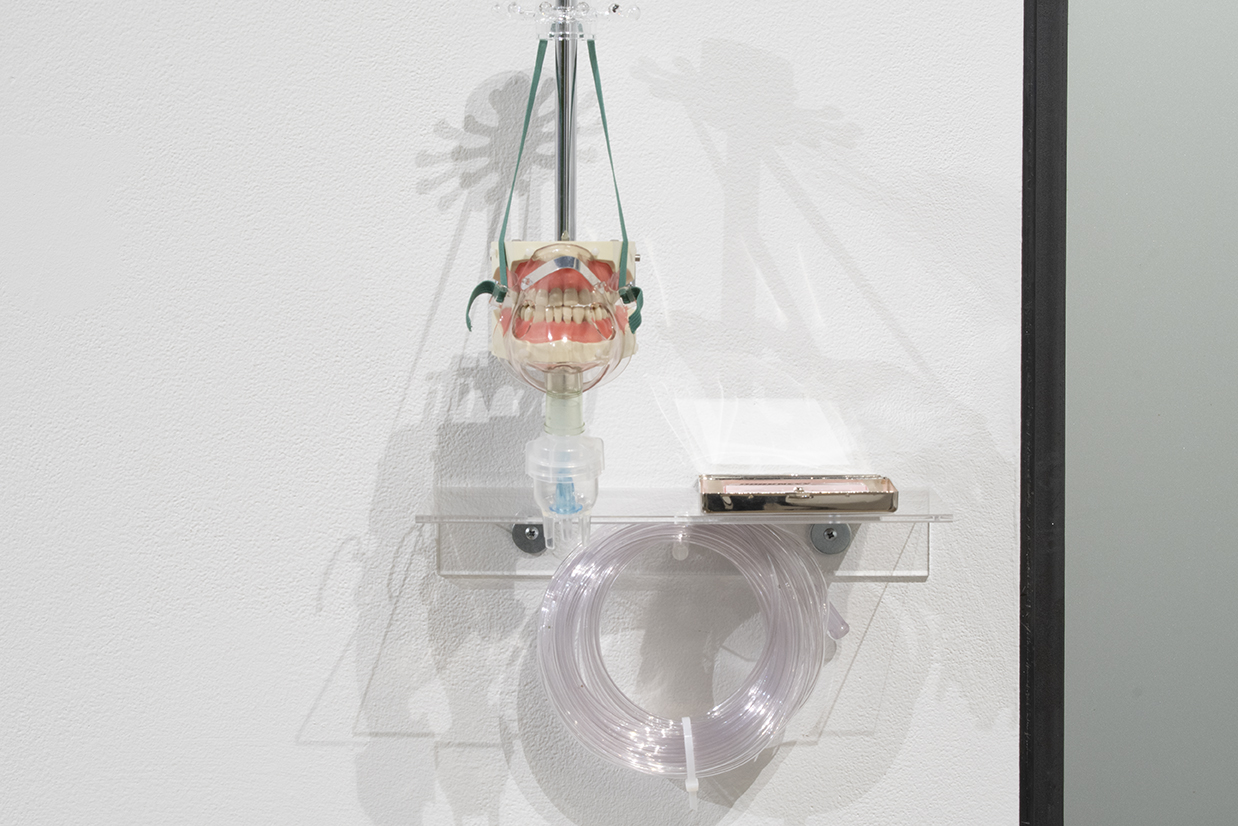 Darkness, 2021, teeth model, oxygen mask, oxygen tubing, metal post with attachment, tissue case, artificial eyelashes, epoxy, zip tie.




You and All Your Friends, 2021, veterinarian's needle.



Staying Power, 2021, grab bar, kid's handcuffs.



Golden Opportunity, 2021, tie, door knob, tie clasp.




Sequencer, 2021, air filter, fishing line with hooks, velcro.




Prince, 2021, hospital gown, toilet paper hook.




Fruits of Our Labor
A collection of hand made toys and games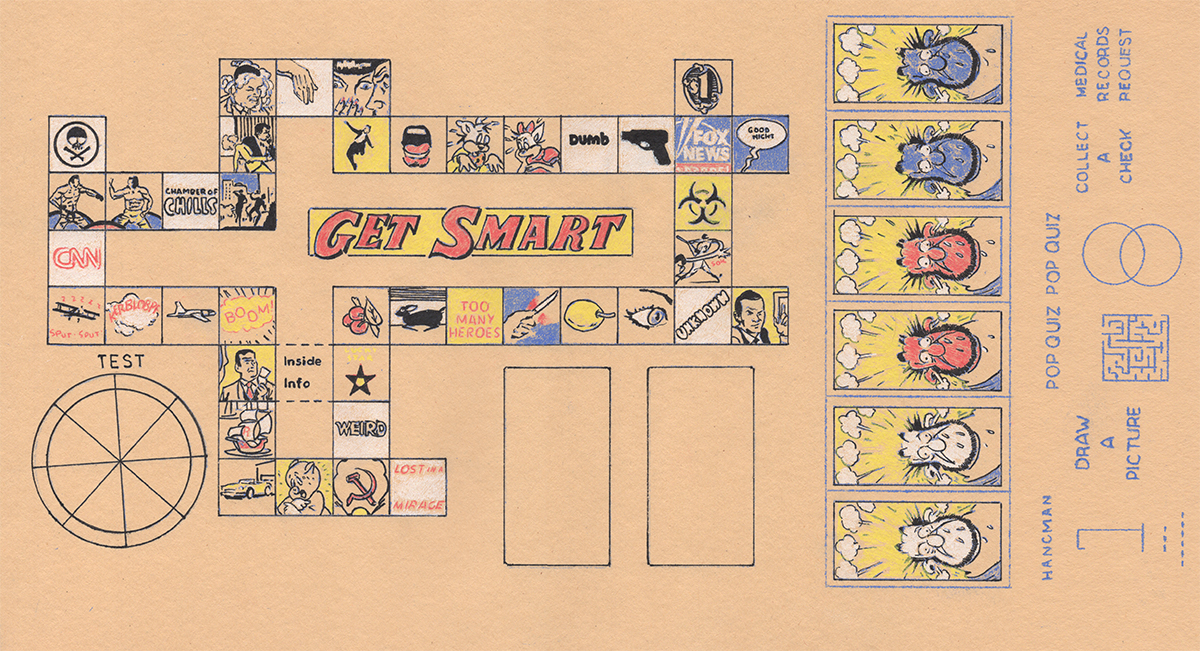 Get Smart, 2020, paper, ink, color pencil, pressure transfers.




The Book of Knowledge, 2010, handkerchief, paper, color pencil, ink, glass top, lens, mirror shard, bookbinding thread, book cover.




Manjiro's Passage, 6 x 8, ink and color pencil on paper.




Birds of Prey, 2011, wood, masonite, veneer, pva glue, shellac, oil, collage.




Montebello, 2011, wood box, mirrors, stereo light, oil, veneer, masonite, wood, shellac, found ball, pva glue, acrylic sheet.




Game of Pieces, 2010, found paper, graphite, ink, color pencil, collaged reproductions.




Zoetrope (for Margaret), 2021, oatmeal tin, felt, acrylic sheet, ball bearing, steel rods, fasteners, enamel, mirror, reproductions on paper.




Binary Abacus, 2016, wood, brass rods.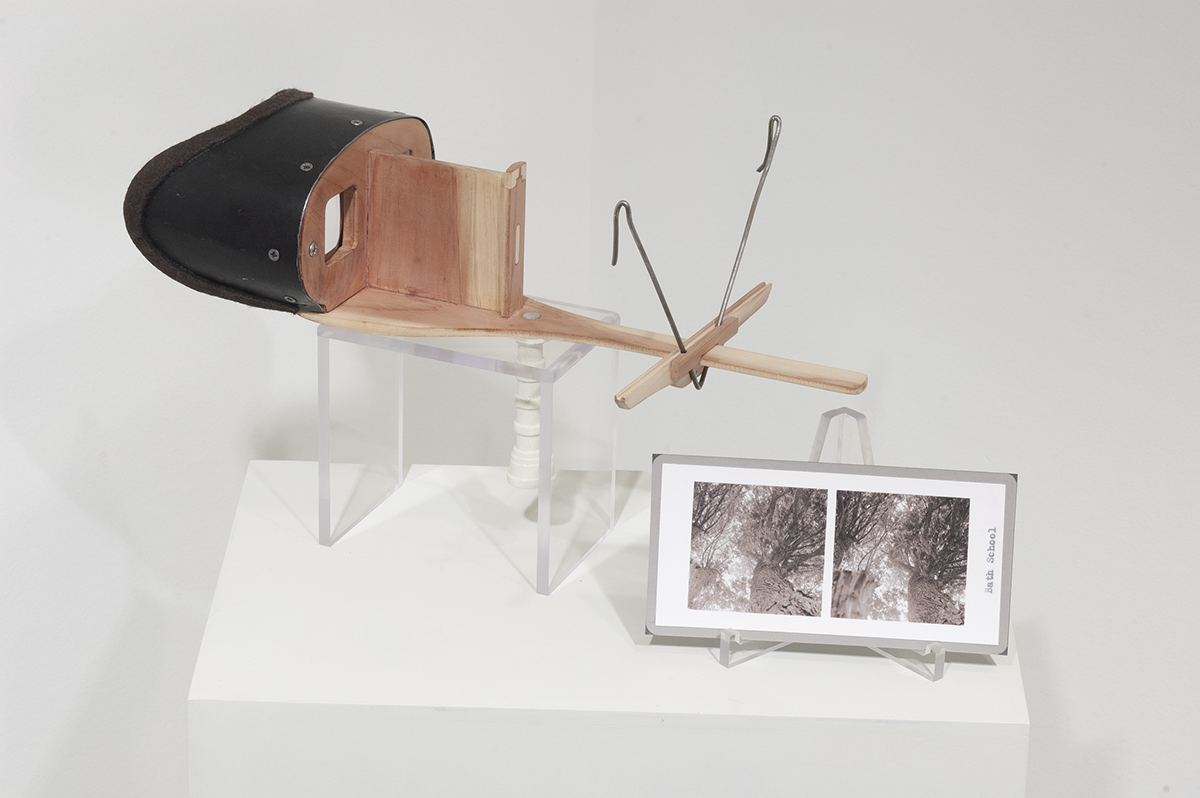 Stereoscope (for Katherine), wood, sheet metal, acrylic sheet, clothes hanger, enamel, stereoscopic lenses, silver prints mounted on board.




Jacks and Bells, 2021, toy tires, bells, jacks, acrylic sheet.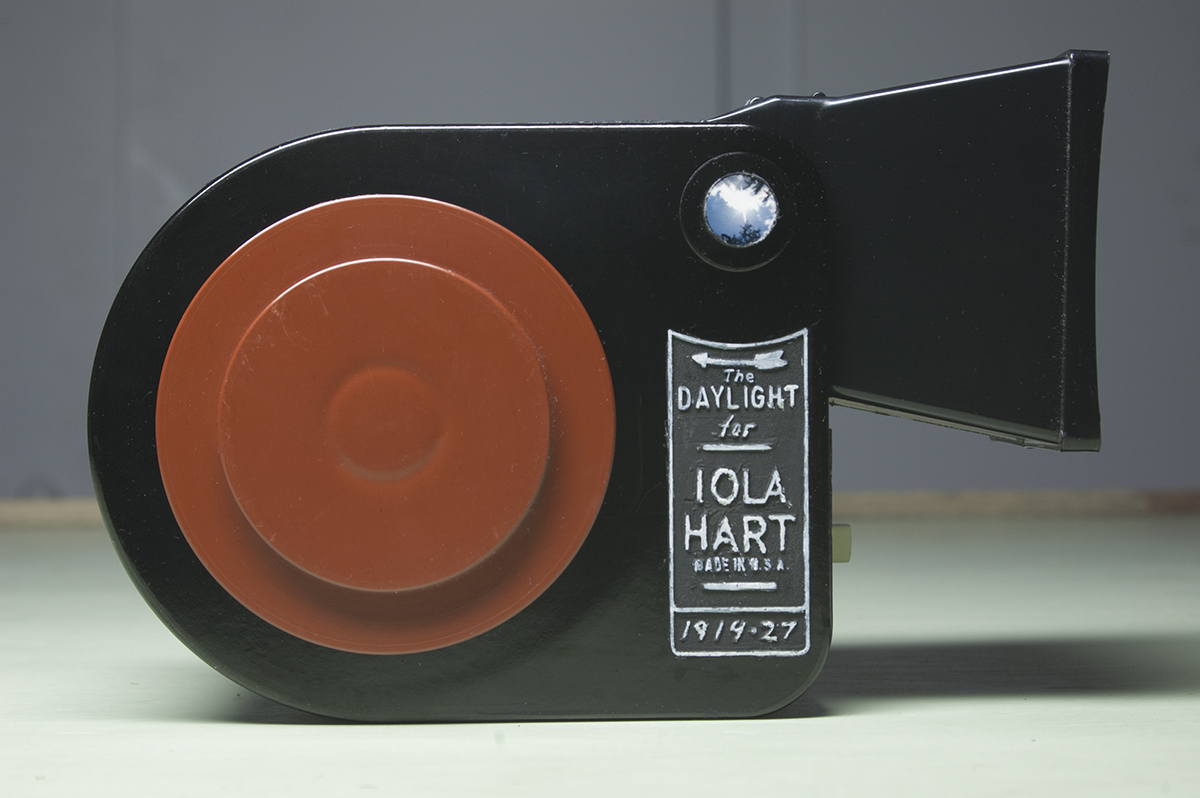 Mutoscope (for Iola), 2015, modified film developing canister, slide viewer eyepiece, crank, battery, light bulb, sewing spool, enamel, digital reproductions.




Magic Lantern (for Robert), 2015, photocopy lens, slide viewer, bracket, glass, digital reproduction, wood.


The Morton Sobell Project


In the days of the prophet, a man was killed and left behind a family in tears. Without appearing to him, Allah told his son: 'Don't cry. I have seen your father."

- Mohammed Yusuf, 2008.


This project began with a Dymo label embosser and the evening news. With a few squeezes of a trigger, the embosser could be used to create name tags and affix them to whatever was in reach; a plastic Starbucks cup, Amazon packaging, an ashtray. The word repeated most that day in the media was new to me, "caliphate." The power of this concept when introduced to any form of property was immediate and transformative.

As the project took hold these strategies of naming began identifying and paralleling imperialist strategies by which targets were identified and elevated in the obscure war on terrorism, which brand contemporary fears by elevating the names and narratives of enemies of the state into the public consciousness, such that these personages gained the very stardom they need to rise through the ranks of ISIS and become a formidable local threat and a target for the Western war machine.

While I began to understand how the people of Africa and the Middle East cope with a catastrophic pillaging and starvation of resources, this work became a difficult investigation into alternative histories surrounding terrorism, imperialism, and the refugee crisis over which the war on terror glosses its names.



Burner, embossed label on phone, 2016.




The Blood of Hector Janjalani, 2016, mixed encased objects.
Hector Janjalani was Phillipino leader of Abu Sayyaf. He was a big target for counter-terrorism, but like a lot of terrorist leaders, it was never quite clear whether the target was indeed dead. Often look-alikes would take the place of dead leaders, so that when Hector Janjalani was killed, blood was taken from his brothers to complete a DNA test.




Extra-Curricular Affair, 2016, mixed objects, book.




The Fleeting Touch of Al-Shabaab, 2016, modified 8mm editor, 8mm film.
This film editor was painstakingly modified to loop an 8 mm film taken from propoganda videos from the terrorist organization Al-Shabaab. The negative reel was developed at home with instant coffee in a bucket.




Darul Tawheed, 2017, motorcycle, spraypaint, wood.




Terms of Endearment, 2017, furniture with mixed objects.
When the motion detector is tripped, this homemade radio transmitter delivers speeches by the leader of Boko Haram, Abubukar Shekau, to the accompanying ham radio.




Splinter Cell, 2016, mixed objects, wood, embossed labels, video.
These syched cell phones show videos of Abubukar Shekau delivering a speech.




Loot, 2017, branded wood and mixed objects, pen, acrylic.




The Lives of Abubakar Shekau, 2016, pipes, felt, motion detector, backgammon board.




Komadougou Yobe, 2017, basketball, ink, acrylic case.




Milestones, 2017, mixed objects.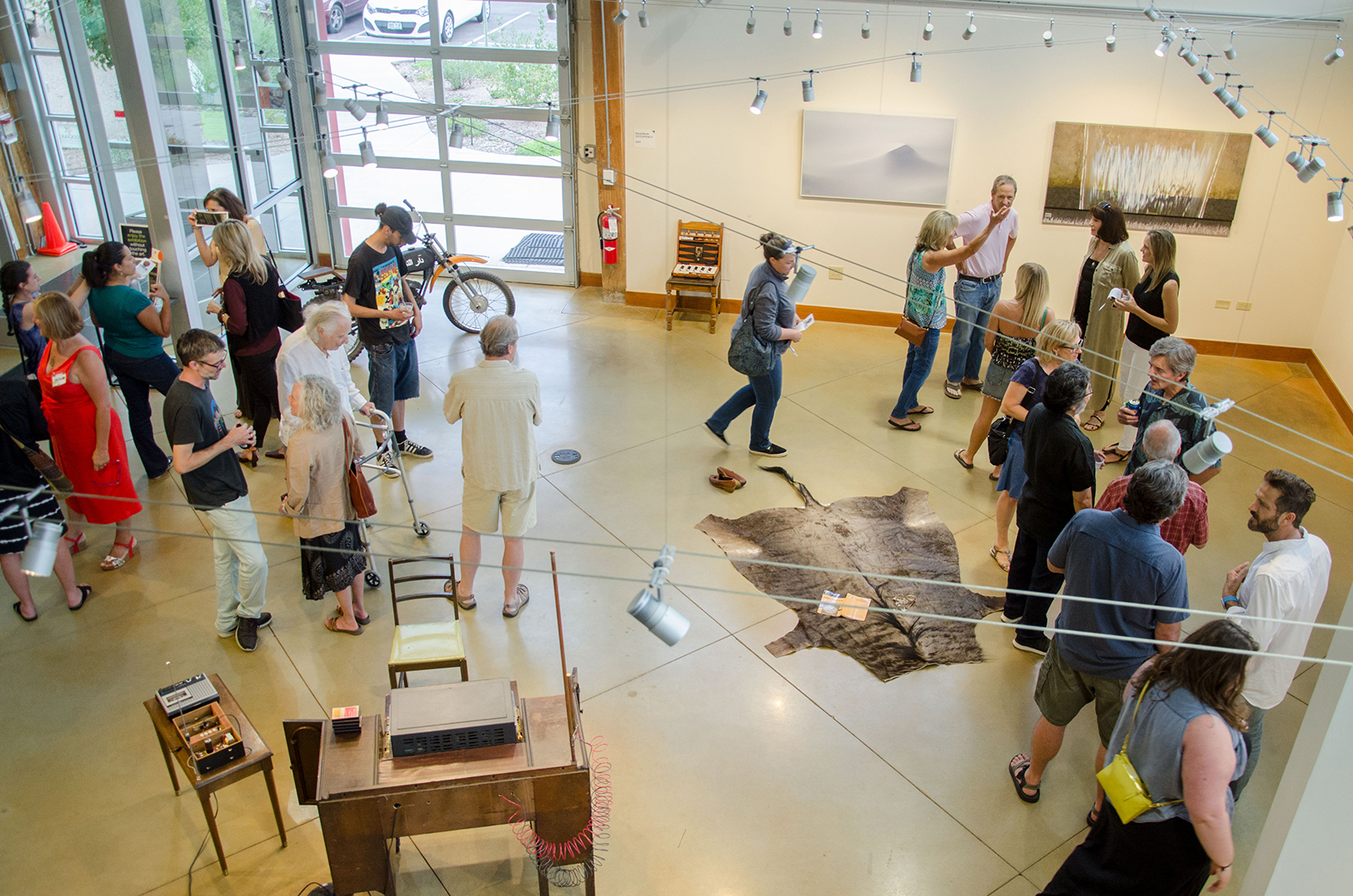 Installation at Art Gym Denver, 2017.